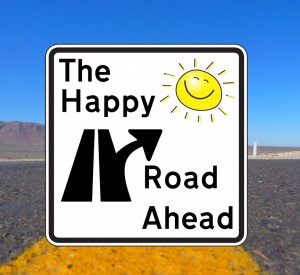 Now that I've changed the layout, look, and format of atleyjonas.com, I find it far easier to see everything and know what's here and what isn't. It seems almost hard to believe that I actually omitted making any mention of a fairly major personal and professional project that I embarked upon earlier this year, and that I am actively engaged with on a weekly basis. Stranger yet, I've been talking about it a fair bit through social media, like LinkedIn, Facebook, and Twitter, and yet, I never made the link between this project and my own website.
I'm talking about a weekly podcast that I record and produce, on the topic of inspiration and motivation. The name of the show is The Happy Road Ahead, and it airs every Monday morning. I send the RSS feed out at around 6 a.m. EST so that by around 7 a.m. it's available through most podcatchers and on the iTunes store.
What makes The Happy Road Ahead such a fun project, is that it satisfies my thirst for researching topics, waxing philosophical, and exploring a variety of different topics as they relate to personal and professional development. A lot of what I've covered so far (in 39 episodes) has incorporated eastern (and specifically Japanese) ideas or philosophies, taken from historical events or books of wisdom. While the podcast itself is non-religious and non-political, I am not afraid to discuss politics and religion, since I believe it's definitely possible to learn from traditions other than our own, without necessarily having to subscribe to that particular system of beliefs. While I may be a Christian, it would be arrogant to say that a Hindu, for example, might not hold incredible insight on a vast array of issues. By being open-minded enough to be willing to learn from anyone and everyone, anywhere, under any circumstance, seriously broadens the scope of a person's ability to critically examine the world around them, and not only understand their own viewpoints better, but realize where others may be coming from as well.
So please do check out my podcast, if you haven't already, the URL for the website is: http://thehappyroadahead.com. Every week I publish the show notes there, which contain links to all kinds of interesting material that help bring to life the topics I mention on the air. Alternatively, if you want to subscribe to the show, you can do so either through iTunes, or your favourite podcatcher, by putting in the RSS feed. I also welcome comments and suggestions for the program, and there is an online form on the website to make that quick and easy to do.