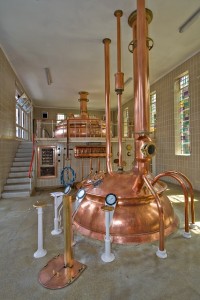 In my first beer-related article, I talked about my own journey through beer, and how I went from drinking only what I knew (and what I knew was good), to having my eyes opened by the incredible, vast variety and complexity of the beer world. If you missed that article, you may read it here, before heading back to pick up with this one. In Part 2, I wish to focus on the unique culture that exists here on Vancouver Island, and specifically in the city of Victoria, which is the place we now call home.
Upon our return from years of living abroad in Japan, I was eager to find some good craft beers and microbrews that I had grown accustomed to enjoying over there. As a member of the Good Beer Club, an informal, often tipsy collection of Japanese beer tasters and connoisseurs, we took pride in experimenting with all kinds of products that we could get our hands on — primarily local products, but occasionally imports, whenever someone managed to bring some to one of the meetings. There was one time, when a member even brought a bottle of his own, highly illegal, homemade stout, which had to be hidden from all eyes and drunk clandestinely to avoid any suspicion of wrongdoing (yes, home brewing is illegal in Japan). So I must say, that I was little nervous, coming back to a place where no such group existed. It didn't take long to discover though, that my fears were completely unfounded, as beer enjoyment didn't seem to require any kind of special "club" or "society" like there was in Japan… It was all around me. I was amazed, and pleasantly surprised to see the extent to which local brewing is highly prized, and is very much ingrained into the local culture.
I can say, without a word of a lie, that since returning back to Canada over nine months ago, that I have not even touched a mass-produced, large brewery-made beer. Why not? Well, it's not because I'm a beer snob, or anything like that, but quite simply, I haven't had to! Why on earth would I spend $14-$15 for a half-dozen cans or bottles of Molson or Labatt or Budweiser, when I could spend the exact same amount (or even less) and drink something really tasty from Phillips, or Lighthouse, or Driftwood? And if I REALLY want to get exotic, there are even dozens more great imported beers. By imported, I mean from the mainland — breweries like Dead Frog, or Tree Brewing Co., or Kamloops Brewing Co. Then, if all that weren't enough, there's an entire world of home brewers and brew-on-premise facilities where anyone can create their own, wonderful, personalised creations, complete with custom labels and names. Honestly, if another drop of Molson Canadian never passed through my lips ever again, I can't say that I would be the least bit upset.
Before I get any deeper into this exploration though, I should explain my previous statement about the large breweries, lest someone get the erroneous impression that I hate the big guys or their products, or anything like that. In 2012, Molson sent a senior executive, chief legal officer Kelly Brown undercover into the heart of the company, to find out how they could improve their business model and increase their profits. This was Episode 6 of the reality show, Undercover Boss Canada. The CEO, Dave Perkins, was seen as being far too recognisable to most employees, so they sent someone from the executive team that would be able to get honest, unbiased opinions and views of the staff. But the one thing that struck me, was how the entire episode was based on a single premise. It was clear from the first few minutes of the show, that the executive team had already made their mind up, and figured they knew what the problem was, well before going in to check things out. They assumed a conclusion that was inherently false, and did everything they could to strengthen and back up that pre-made conclusion.The narrator nailed the problem precisely, saying that "a new generation of beer drinker has turned away from corporate goliaths like Molson, judging it too industrially mass-produced, preferring to pull their pints from smaller, craftsman breweries." But where the Molson execs failed so desperately, was in answering the question WHY.  Throughout the episode they spent ruminating on whether it was a migration toward other beverages like wine, or perhaps something in the processes and procedures that contributed to the brand image. They kept asking the question of how they could re-engage the public and draw more customers to their brand and product. But no matter what ideas they seemed to have, again and again, they consistently kept dodging the elephant in the room. By the end of the show I was standing on my couch, yelling at the TV: "The reason why you're losing market share is because your product has no taste!" No amount of marketing, advertising, convincing, cajoling, corporate sponsorship, community outreach, or any measure that does NOT involve changing the fundamental taste of the final product, can fix the problem, if people just don't like the taste! They (and other, similar brands) have spend decades perfecting a product "with no aftertaste." And that's the whole problem. If there's no aftertaste, there's no foretaste either. There's just no taste! Period. Seriously, though. This new generation of beer drinker, may or may not care whether you're David or Goliath; that's up for debate. What they definitely care about, is drinking something that actually tastes like more than just fizzy, bitter water. I do think that Molson might have a shot at recapturing some of their market dominance, but it would take a complete change in strategy that no amount of undercover executive detective work will uncover. My message to Molson's exec team would be this: Forget Molson Canadian. It's a product that's at the end of its life cycle. It's a mature product (to speak in MBA-ese), that has a limited, older, niche market demographic that is losing its appeal with the younger crowd. Especially here in B.C. If you really want to know what your customers want, come to Victoria for a week. You won't even need to be undercover. Just come and try out some of the city's many brewpubs. Walk from your hotel down to Phillips Brewery on Government Street, fill up a Growler with some Dr. Funk, take it back to your hotel room, and taste what a fine, locally made, small-batch beer tastes like. There really is a preference for locally owned, operated, and distributed products, by the way. So if Molson did want to compete or at least try a brand new direction, I'd recommend leasing an empty building near the downtown core, call up (Victoria-based) Specific Mechanical to come in and install a quality microbrewery system, hire a local brewmaster with a passion for small-batch craft brewing (maybe one of the island's many brew-on-premise gurus), create some brand new, unique recipes with clever titles, give the company a creative, West-coast sounding name, and for goodness sakes, whatever you do, keep the Molson name as far away from the brand as possible! Again, no offense to Molson or its beers intended here. Really! I have no personal beef against them, but there are just so many far tastier beers to be had.
One testament to Vancouver Island's strong beer culture, is not just the representation of local breweries in Victoria's public houses and restaurants, but a broader interest in all things beer. A recent, nine-day long beer festival in Victoria demonstrated that quite clearly. Kicking off the event with a cask night, hundreds of Victorians crowded into the Hudson, a large, downtown venue, to sample craft beers from 32 local and BC-based breweries. Thirty-two! Are you kidding me? That's almost three dozen breweries in one, small geographical area. According to BC Beer, an industry website, Vancouver Island alone is home to 17 microbreweries or brewpubs. Of those, ten are in the capital region district (greater Victoria) while the remaining seven are distributed through Comox, Duncan, Nanaimo, and Tofino. Following the festival-like kickoff to the week, other events all defined what it meant to enjoy craft brewing. A beer and cheese party, several beer and movie nights (with appropriately themed movies for viewing), meet the brewmaster events, and a brewery crawl to end all pub crawls, which included limousine transportation and back room access to some of the best brewpubs. The grand finale was a gourmet brunch at the Atrium, a classy retail office building in the downtown core, featuring several of the island's breweries who sponsored the event.
As I look back on the paragraphs I just wrote about some of Victoria's beer culture, I think to myself, "Wow! That's pretty amazing!" Until I realise… Mais non, monsieur. We haven't even BEGUN! Victoria is also home to the Great Canadian Beer Festival. Imagine Cask Night at Victoria's Beer Week, multiply that by about five, plunk the whole thing down into a large baseball stadium, fill it with musicians (including Darth Vader playing a fiddle), street performers, and all manner of colourful characters, and you'll get a quick idea of what it's all about. Held annually in September, tickets to this event disappear so fast, it'll make your head spin (the official words used to describe how fast tickets went are "within minutes")! Incidentally, tickets for some of the Beer Week events sold out within the first HOUR of going on sale online, so being a beer fan around here also means being quick on the draw. April is when Nanaimo holds its annual Kinsmen Beer Festival, another great celebration of local craft brews, for those located up-island, or wishing to make the hour-long trip from Victoria. I haven't had the privilege yet, but I hear that it's also a good place to wear your lederhosen… Not quite as local, but Vancouver hosts a Craft Beer Week at the end of May, and the city has already hosted the Samuel Adams Samley Cup Homebrew Competition earlier in March, which is a unique event where local breweries and brewpubs (12 in total) are given a basic home-brew kit, and told to get to work, creating a unique product that actually tastes good. If you REALLY want to go remote, the Galiano Island Wine & Beer Festival will be in its 23rd year, which attracts not just local microbreweries, but also vintners to this small, Gulf Island, located between Vancouver Island and the Lower Mainland. If you're up for a bit of travel across BC during July, there's the Canada Cup of Beer in Burnaby, the Whistler Village Beer Festival in September, and finally, the Kiwanis Alefest, held in Prince George at the end of January. By the way, these are just some of the MAJOR events. For smaller, more intimate events, you could easily fill up your entire calendar with events sponsored by the BC Craft Brewers Guild, which would include the Okanagan Fest of Ale, Tap Takeover in Squamish, Murderers Row Cask Event in Penticton, all held in April, as well as Vancouver's Craft Beer Week, which is in May. Have you had enough yet? I hope not, because I also have the scoop on Barrels & Bottles in Vancouver, Beer Goggles Festival in Red Mountain, Rotary Hops Festival in Port Alberni, East Kootenay Beer Festival in Fairmont Hot Springs, Tip n Taste in Langley, Tapped In, on Granville Island, Cork & Keg in Langley, the Stevenson Beer Festival, and the Harrison Beer Festival in Harrison Hot Springs. Surely, THAT's got to be it though, right? Well, no. Not quite. We're still neglecting the fact that all of October is BC Craft Beer Month, and the fact that just about every craft brewery in BC has its own special events, sponsorships, guest appearances, and opportunities for thirsty connoisseurs to revel in the fact they they do, indeed, live in paradise.
I should also mention, that even after I wrote the previous paragraph, I still managed to find even more events, thanks to Crannog Ales, a microbrewery based in Sorrento, that specialises in certified organic, Irish ales. For the record, anything organic is also going to be a hot ticket item in these parts, and that in itself opens the doors to a whole other world of festivals and special events. Some of the events I started finding were brewing or beer related, without even necessarily involving drinking beer. Or if they were, it was a part of a greater theme where craft beer was just a part. These included all kinds of art events, music festivals, and harvest festivals.
With all of this (and more), you can probably see by now, how Victoria's beer culture is like peeling back successive layers of a perpetually growing onion. That is about the most apt comparison I could think of. Every time you think you know something about it, you can peel back the skin to reveal a whole other layer underneath it, but without any real hope of ever reaching the centre. So with that said, I'm going to shift gears and talk a bit about some of my favourite craft breweries and beers that I've had the opportunity to taste. Let it be known, that these are not presented in any specific order, nor is this list exhaustive. It's simply meant as an introduction, or primer to what you might find in Canada's beer mecca.
Fat Tug IPA by Driftwood Brewery
If I were to give any advice to a newcomer to Victoria, I would not hesitate to steer them toward any beer made by Driftwood. There's really no way to go wrong with these guys, and many local pubs and restaurants carry several of their offerings on tap — especially Fat Tug IPA. Before I get into the beer itself, here's a quick word or two about the brewery. A recent addition to the local landscape, 2008 was the year a Rock Bay warehouse began its transformation into a brand new brewery. It began as a small-time operation and labour of love by owners Jason Meyer and Kevin Hearsum, but rapidly expanded into a major operation that expanded into Vancouver and the lower mainland, and before long, across the province. Expanding their capacity and hiring additional staff as they grew, Driftwood is now a major contender in Victoria's microbrew and craft brew market, with popular beers like Driftwood Pale Ale, Fat Tug IPA, and White Bark Whitbeer, among others, making regular appearances in local shops and drinking establishments.
Fat Tug IPA is an excellent choice for someone who is used to hoppy bitterness, typically found in many European lagers, making this a characteristic, West Coast IPA. As a result, you have that nice, herby, hoppy, but also citrusy nose. On the palate, the beer is complex, but you can pick out  citrus and other fruits (hints of mango) amidst the hoppy bitterness, making it rather well balanced. Overall a very enjoyable drink, and one that I would recommend quite enthusiastically. The folks at Driftwood recommend pairing the beer with spicy dishes, or as an aperitif — both suggestions I would also endorse. Careful not to go overboard though, as Fat Tug is somewhat higher in alcohol content at 7%, so you probably wouldn't want to drink it quite the same way as your lighter, 5% range beers or ales. That said, Fat Tug is easy to drink, making it even easier to forget that it's got more alcohol.
Longboat Chocolate Porter by Phillips
Having been around almost a decade longer than Driftwood, Phillips was established in Esquimalt in 2001 by Matt Phillips. He started Phillips as an experienced brewer, having worked at Spinnakers Brewpub, another well-known local brand, but also Whistler Brewing and Wildhorse Brewing (both on the mainland). Taking a gutsy gamble, he started Phillips with only credit cards, as banks weren't willing to back his request for a loan. But fortunately he didn't need to wait long for success, with his first offerings featuring an IPA, an espresso stout, and raspberry wheat ale. A couple years later in 2003, he made Phoenix Lager, released originally in "stubby" bottles, a design that is sure to be remembered with great fondness and nostalgia by many. Year over year, Phillips expanded, releasing a wide variety of amazing products, many with creative names like Hop Circle IPA, Dr. Funk Dunkel, and Hoperation Tripel Cross. Today, Phillips has become a staple in most local establishments, but in particular, special events. One of their staple offerings, Blue Buck, is a super-easy-to-drink English pale ale that seems to find its way into house parties, festivals, and just about everybody's home refrigerators. But just because it's ubiquitous doesn't mean it's not tasty. What makes it attractive, is its wide appeal, making it great for beer novices, but also a refreshing, light choice for the aficionado who's just not in the mood for a more substantial brew. The one thing that I must say about Phillips, before I get into a description of their Longboat Porter, is just the unique vibe and buzz this particular brand engenders. In 2008, Phillips moved their entire operations from Esquimalt to downtown Victoria, where they maintain a brewery store, complete with their current selections, tasting bar, and a Growler filling station. Upon entering the premises, you get a real taste (no pun intended) of what I really mean when I talk about Victorian beer culture.  On a Saturday afternoon, the place is packed with people, as if it were its own, self-contained beer festival. Super-friendly staff move efficiently, taking care of customers, tasters, and even the more serious buyers, pulling in with large vehicles and carting away entire kegs. Aside from being really friendly, everyone is very knowledgeable and makes it amply clear that they love their jobs.  In addition to all of that, company website is well done, colourful, and the entire company history is cleverly related in a series of limericks on the Phillips Beer website.
On to the beer itself. While I've sampled many of Phillips' products since arriving in Victoria, I felt that Longboat Choclate Porter deserved a special mention. It's a true chocolatey beer, which tends to polarise people into the "absolutely love it" or "absolutely hate it" camps (but that's the way it tends to be with flavoured beers in general). I can't much relate to the latter group, since I love chocolate, but those who don't would probably do well to abstain. Moving past this disclaimer though, if you're in the mood for a rich, flavourful brew, this is one to definitely include on your tasting list. The bouquet is that of caramel and cocoa. The head is rich, white, and creamy, with the body a dark chestnut brown. As for the taste… If chocolate milk could be made into beer form, this is what it would taste like. Silky, smooth, and creamy, sweet (but not sugary sweet), with intense chocolate, hazelnuts, toasted malt, and hints of coffee.  The alcohol content is only 5.2%, but the full taste makes it seem like you're drinking something higher. Upon drinking it, I felt the urge to pair it with… believe it or not… chocolate! In fact, recently I did just that, and the results were heavenly! I got my hands on a Growler full of Longboat, directly from the brewery on Government Street, and a block away, a bar of pure Tanzanian chocolate from the Chocolate Project, a stall vendor at the Hudson, a downtown, indoor market. When I combined the rich, dark chocolate on my upper palate with sips of Longboat, it tasted spicy, almost like a Dr. Pepper. Very cool!
Before moving on to the next brewery and beer on my list however, I should quickly point out, that growlers are another ubiquitous part of Victorian beer culture. A growler, is a 1.9L brown glass jug, that can be filled, and re-filled with your favourite beers on tap, at any number of breweries and brewpubs in Victoria (and beyond). The advantage, other than a slightly cheaper price and largest percentage of the profit going to the brewery (rather than being eaten up by taxes), is that you are enjoying fresh draft beer in the comfort of your own home. Enjoyed by Europeans for decades, this age-old custom has come to the New World (although with a few adaptations). My father has fond memories of being sent to the local pub as a child, with an empty growler and money from dad, to bring him back a full one. He tells me, that among men, this was the essential way of describing your children's ages to friends.
"How old's your boy?"
"Old enough to go to the pub to bring me beer."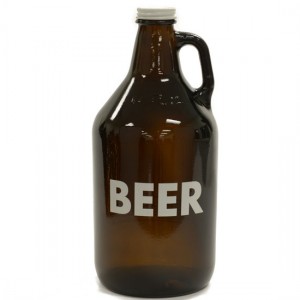 And that made more sense than stating something abstract like, "He's 10." You won't find children bringing empty growlers to filling stations in Victoria (heavens, that would be highly illegal), but there is definitely a sub-culture surrounding this too. Some smart entrepreneurs have even started creating custom growler accessories, from carrying cases and bags, to complex CO2 systems and taps, allowing you to pour the beer "on-tap" just like you would at the pub, but also preventing the beer from going flat. Growlers can also be collectable, as they often feature the name, logo, and other designs, from the breweries that distribute them. The image I've included here for those who've not heard of growlers, happens to be a very generic one. In Victoria, at the time of writing of this piece, a brand new growler (jug) would cost you $5, but could be reused an infinite number of times. Refills of most beers, at most brewpubs cost $10 for 1.9 litres of beer, making it somewhat cheaper than buying cans or bottles at the liquor stores. At Phillips in particular though, I was amazed at the long queue of people, all waiting to refill their growlers. Clearly, it's an incredibly popular thing, and many locals do choose to consume their beers in this manner.
Hoyner Pilsner by Hoyne
For anyone who is interested in the story behind the beers they drink will likely find Hoyne to be a slightly frustrating experience. Perhaps it's a reflection of how new this company is, since it was established just in 2012. But details like these, I unfortunately couldn't find on the official website, and had to glean from third party sources. Nevertheless, the owner and brewmaster, Sean Hoyne is no stranger to microbrews and craft brewing, having helped establish a brewery at Swans Hotel in 1989, and then founding Canoe Brewpub in 1998. For this veteran of Victoria's beer scene, his latest venture must have come quite naturally, as an almost turn-key operation. Still, no matter how turn-key it might have been, there is still no substitute for producing quality products when people vote with their feet, and Hoyne's success to date is a direct function of the tastiness of their beers, combined with their widespread availability. One thing that did strike me about the website, was that they indicated, by way of Google Maps, all the establishments in Victoria where Hoyne beers can be found. It's a nice, comprehensive map, and it's interactive too, meaning that you can click on individual push pins to reveal the name of the liquor store or restaurant/pub that carries their products. The neat part is, that you can zoom out and see how far they've managed to distribute across B.C.
Given that I've spent a good portion of my beer-drinking experience as a dedicated pilsner drinker, I thought it would only be fair to include one in this article. Since I've already presented a good cross-section of very different beers thus far, for the sake of completeness, I wanted to mention a very fine pilsner that's sure to satisfy those who share my background. When it comes to this particular beer though, I don't really have much to say about it, actually. It's simply just a very, very fine pilsner — in fact, probably one of the best you'll find, short of taking a trip to the Czech Republic or Germany. Hoyner has all the qualities one would expect from an old-world, European-style pilsner, from its light straw colour, faint hoppy smell, but strong, bitter hoppy taste. This is what people who like a "clean, refreshing taste" mean when they use those terms, and yet — it's nothing like its mass-produced distant cousins that bear the famous brands of the global corporations that make them. Another nice feature for the true beer geeks, is that the website does list the main ingredients used. For Hoyner, they've used a combination of Czech Saaz, Hallertau, Hersbrucker, and German Spalter hops, Canadian Superior Pilsner, Munich, Vienna, and Carapils malts, and Hoyne's proprietary lager strain of yeast, to produce this 5.5% alcohol beer.
I will restrict myself to these three beers and breweries for the time being. While it would be really cool to have a beer review site that is dedicated to the local scene, that's not my goal at this point. In previous years I hosted a restaurant review Blog for Kofu, Japan (now defunct, but the articles are still accessible at Eat Kofu!), which was quite fun, and I can see myself doing something similar again in the future. As for the beer though, my head is still spinning with the prospect of being able to try out so many fantastic beers in such a small geographical area, and in such a long, and in such a short period of time. Yes, you read that last sentence correctly. To anyone who happens to be passing through, or visiting Victoria for a short stint, they're truly in for a treat. Stopping in at any one of the hundreds of pubs that serve local craft beers on tap, it's hard to go wrong. Just choose a place, and pick your poison for the night. And if it all seems rather daunting, don't worry. I have yet to meet a server who isn't completely fluent in their knowledge of the different breweries and individual characteristics of the beers they serve. Far more than just memorising the beer list, which they can recite from memory backwards and forwards, you can indicate the flavours you're after, what kinds of notes you like and dislike, or similar beers you've enjoyed in the past, and they're always happy to give some suggestions on what you might enjoy. Then, to anyone who happens to call Victoria home, or intends to in the future, they're in for an even bigger treat. We have the opportunity to take the time to savour and enjoy, experiment, and try out beers, in saecula saeculorum (forever and ever), Amen.  No, really. Even if you did reach the end of all the locally available beers, you'd then still have the limitless possibilities of trying new recipe after new recipe at any of the brew-on-premise facilities that are so popular.
After writing this, I think I may even have a great idea for a new business. Seeing that there are already so many popular tour companies, offering whale-watching and marine tourism, agro-tourism, and eco-tourism, just to name a few, I can see there being a great market for beer tourism, where knowledgeable guides would take people to different breweries, pubs, and other great spots to enjoy what the island has to offer. Perhaps this could be combined with some informational sessions about the craft of beer making, and pre-arranged set courses with local restaurants and gourmet chefs who would pair specific dishes with carefully selected, local craft brews. And maybe there would even be a clever way to involve visitors in a brew-on-premise experience, resulting in a product they could enjoy, and even take home with them upon departure, or have shipped back to their home, depending on where they lived. Please don't just steal my idea, though! Give me and call and we can go into business together. 🙂